Announcing: Chris Forsyth & The Solar Motel Band 'Intensity Ghost' CD/LP + tour dates
posted 7/8/2014
Pleased to announce INTENSITY GHOST, the first studio LP from Chris Forysth & The Solar Motel Band. The album will be released on October 28th in the US / 27th rest of the world on CD/LP and digital via No Quarter. Intensity Ghost is the follow-up to last years critically acclaimed Solar Motel album, which made year ends lists at The New Yorker, Uncut Magazine and Popmatters and provoked ecstatic comparisons; from Television and Neil Young & Crazy Horse to Richard Thompson and The Grateful Dead. Solar Motel came together as a solo album but the band Forsyth assembled to tour the record – bassist Peter Kerlin, guitarist Paul Sukeena (Spacin), and drummer Steve Urgo (ex-War on Drugs) - took things to another level and quickly became a powerhouse. Forsyth brought the group into the studio in late 2013 to capture what became Intensity Ghost, a 5-track masterwork of grace and power.

Stay tuned for more news in the coming weeks, but until then catch the band live at the following dates:

7/11 - CLEVELAND @ Happy Dog
7/12 - CHICAGO @ West Fest #
7/13 - MADISON @ The Frequency %
7/14 - MINNEAPOLIS @ 7th St Entry
7/15 - IOWA CITY Trumpet Blossom Cafe ^
7/16 - CHICAGO @ HQ *
7/18 - LAFAYETTE, IN @ Spot Tavern +
7/24 - PHILLY @ Spruce Street Harbor Park ~
7/25 - PHILLY @ Boot & Saddle ()

# w/ Lee Fields & the Expresssions
% w/ Spires That In the Sunset Rise & Disembodied Monks
^ w/ Lason Lescalleet
* w/ Bitchin Bajas & Axis: Sova
+ w/ Apache Dropout
~ w/ Purling Hiss
() w/ Oneida

One of the most raved-about live acts on the road today – Aquarium Drunkard

If you take classic to mean archetypal, I don't mind saying that Chris Forsyth & the Solar Motel Band are currently the acme of classic rock. – Chicago Reader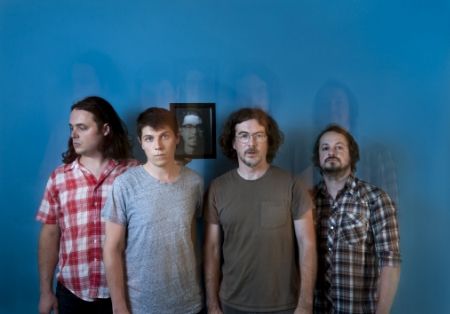 Bob Carpenter - Silent Passage
posted 6/27/2014
On August 19th we will be reissuing the 1974 album Silent Passage by Canadian songwriter Bob Carpenter. Incredible record that was recorded for Warner Brothers by legendary producer Brian Ahern but was held up in contract negotiations and eventually slipped through the cracks. Canadian label Stony Plain issued the album in 1984 and we are pleased to bring this new CD/LP pressing to light. The CD comes with a nice 16 page booklet with liner notes by Vancouver Folk Festival producer (and friend / fan of Bob) Doug Cox. Liner notes will be included with the LP too (just not in a booklet format) as well as an mp3 download code. Listen to the title track below which features a young Emmylou Harris on backing vocals and pre-order in our webshop:


Jennifer Castle to release Pink City on September 2nd
posted 6/27/2014
The headline says it all... Jennifer Castle will follow up her critically acclaimed 2011 album Castlemusic with Pink City. This is a stirringly beautiful record and every bit a step forward. Its barer arrangements - oftentimes just piano, guitar and voice with occasional strong arrangements by Owen Pallett - highlight just how good of a songwriter Castle. Take a listen to the first single, the dark and dreamy Nature, and pre-order in our webshop. Canadian fans can order from Idee Fixe Records:


Doug Paisley on tour
posted 4/15/2014
First round of tour dates announced in support of Strong Feelings:

Apr 28th - Signal Kitchen - Burlington, VT tix
Apr 29th - The Empire - Portland, ME tix
Apr 30th - Turn It Up Records - Brattleboro, VT
May 1st - Club Helsinki - Hudson, NYMay 2nd - Bowery Ballroom - New York, NY tix
May 3rd - The Sinclair - Boston, MA tix
May 5th - Boot & Saddle - Philadelphia, PA tix
May 6th - Rex Theater - Pittsburgh, PA tix
May 8th - Decca - Louisville, KY
May 9th - Do317 - Indianapolis, IN tix
May 10th - Lincoln Hall - Chicago, IL tix
May 11th - Magic Stick - Detroit, MI tix
Jun 12th - Mississippi Studios - Portland, OR * tix
Jun 13th - Triple Door - Seattle, WA * tix
Jun 14th - Biltmore Cabaret - Vancouver, BC * tix
Jun 18th - City Winery Napa - Napa, CA * tix
Jun 19th - The Chapel - San Francisco, CA * tix
Jun 20th - Rio Theater - Santa Cruz, CA * tix
Jun 21st - McCabes Guitar Shop - Santa Monica, CA * (sold out)
Jun 22nd - The Griffin - San Diego, CA * tix
Jun 24th - Hotel Cafe - Los Angeles, CA

* with Josh Rouse
Strong Feelings In Stores Now
posted 2/11/2014
The 3rd album by Doug Paisley Strong Feelings is in stores now and finding no shortage of critical acclaim:

MOJO: If you could blind taste music like wine you'd be hard pressed to distinguish Doug Paisleys latest record from a vintage Nashville classic.

Uncut: Its crafted to the point of timelessness, as compelling as a dream.

Wall Street Journal: An album of tasteful subtleties: warm guitars unspooling over the gentle hum of an organ enveloping Paisleys AM-gold voice with just a hint of a twang, on songs that glide by like beautiful scenery.

Pick up the CD/LP in our webshop or at your local record store. Buy the mp3 version at iTunes
Doug Paisley - Song My Love Can Sing
posted 12/2/2013
Happy to present the first track from the great upcoming LP by Doug Paisley. Strong Feelings is out January 21st, 2014. Pitchfork were kind enough to premiere this stream earlier today, and you can pick up an mp3 version when pre-ordering the album over at iTunes. Stay tuned for more Paisley news in the coming weeks:


Doug Paisley Strong Feelings CD/LP out January 21st
posted 11/21/2013
Hear the first taste of the highly anticipated follow-up to Constant Companion in this teaser video:


And pre-order Strong Feelings in the webshop or on iTunes
Cian Nugent & The Cosmos album in stores today!
posted 11/12/2013
In stores today is the new album from Cian Nugent & The Cosmos and it's been getting nothing but rave reviews from both sides of the Atlantic. Aquarium Drunkard perhaps summed it up best in saying: Throwing around the adjective perfect is a dangerous thing, but I will be goddamned if I can find a single thing wrong with Born With The Caul.

Check out what these other outlets are saying:

New York Times: The Irish guitarist Cian Nugent sounds as if he has entirely absorbed the prescient, droney traditionalism of American guitarists in the 1960s like John Fahey and Sandy Bull, but he has taking it forward into his own hybridized areas: chamber music, jazz, psychedelia, bluegrass, and what people who used to visit record stores might call postrock... Highly accomplished"

Irish Times: Nugents command of mood and tension and his mastery of his instrument, are a marvel.

PopMatters: Nugent and the Cosmos create and then explore negative space... stretching into the kind of rippling rock exploration that would make Crazy Horse weep... This is a masterful and brilliant set top to bottom.

Order Born With The Caul on CD or LP in the webshop and check out this live clip of the band performing in Dublin:


Cian Nugent & The Cosmos / new album out November 12th
posted 9/26/2013
Excited to announce the new album by Irish guitarist Cian Nugent, the first with his band The Cosmos. Cian's 2011 album Doubles was a gorgeous (and critically lauded) solo effort. The Wire wrote that Nugent has: already mastered dynamics, articulation and tone. He introduces each new melody and change of emotional tenor at precisely the right moment to keep you on the edge with him.

Nugent has toured the UK, Europe and the US. The Cosmos recorded debut came earlier this year with a single on Matador Records. Their debut LP Born With The Caul was recorded late 2012 and early 2013 in and around Dublin. Hear the opening track:



And pre-order the CD or LP in our webshop!
Hard For To Win...
posted 9/12/2013
Just a week until Nathan Salsburg's new LP/CD/DL is in stores, both online and real world. In case you missed it, we've put up two tracks for you to sample: the album opener First Field Path and the damn near heartbreaking Coll Mackenzie (that one written by Archie Fisher). Nathan takes the one-man show on the road starting with the album release party in Louisville. He'll make it to the northeastern US later this fall:

Sept 17th - Greenhaus - Louisville, KY w/ Joan Shelley
Sept 18th - House Show - Knoxville, TN (email for details)
Sept 19th - Capsule Gallery - Atlanta, GA *
Sept 20th - Fine Arts Center - Simpsonville, SC w/ Hunter Holmes *
Sept 21st - House Show - Durham, NC w/ Phil Cook (email for details)
Sept 22nd - The Apothocary - Asheville, NC w/ Sarah Louise *
Sept 23rd - House Show - Blacksburg, VA *(email for details)
Sept 24th - Pocahontas County Opera House - Marlington, WV *
Oct 13th - End Of All Music - Oxford, MS
Oct 19th - Boot and Saddle - Phila, PA
Oct 31st - Joe's Pub - New York, NY tix
*With screenings of Alan Lomax's "American Patchwork" raw footage

Be sure to pre-order Hard For To Win And Can't Be Won in our webstore, on iTunes or give a call to your local record shop and ask if they'll be stocking it next Tuesday.
Houndstooth / live on Oregon Public Broadcasting
posted 8/25/2013
Houndstooth stopped by their hometown public radio station to play a few songs from their excellent debut album Ride Out The Dark. Check out the clips below. Uncut Magazine gave the record an 8/10 saying: reverberant, diffident indie-rockers whose songs often devolve into short guitar jams that are as compelling as they're nonchalant. There's something of the early, Americanophile Fairport Convention to the likes of "Wheel On Fire", while "Francis" and "Canary Island" happily recall the more recent kindred spirits Oakley Hall and Avi Buffalo.


New Nathan Salsburg album out Sept 17th / pre-order now
posted 7/28/2013
In a few weeks we'll release the 2nd album by Louisville guitarist Nathan Salsburg. Recorded this spring in Chicago with Jim Elkington, Hard For To Win And Can't Be Won contains nine tracks: seven instrumentals, two sung. They are (in the words of Amanda Petrusich): "agile, engaging compositions, songs that feel desirous and questioning and vital, as if they weren't just channeled into being, but demanded revelation." Take a listen to the album opener below:



The album is up for pre-order now over in the web shop, and for a limited time we're offering a screened tote bag featuring the great cover art pictured over on the left (by artist Kevin Taylor). Only 100 of those exist so act fast (they are great for toting records or groceries). Nathan heads across the pond for a string of live dates beginning this week in London. Stay tuned for US live dates to be announced soon.
Doug Paisley talks new album / live shows
posted 6/14/2013
Doug Paisley recently spoke to SPIN Magazine about his forthcoming studio album (his 3rd) and some of the logistics that went into making it. Read about that here

He has a handful of live shows coming up. Expect more as things start to ramp up for the new LP:

June 15th - North Carolina Museum of Art - Raleigh, NC w/ Glen Hansard
June 16th - 9:30 Club - Washington, DC w/ Glen Hansard
June 18th - Rockwood Music Hall - New York, NY
July 4th - Riverside Park - Rochester, NY w/ Dawes
Debut album by Houndstooth coming July 16th
posted 5/15/2013
Ride Out the Dark is the debut CD/LP by Portland five piece Houndstooth. Check out the lead single "Canary Island" below:


Rollin & Tumblin
posted 4/19/2013
Check out the 12 minute plus iTunes bonus track from Long Island (and b-side to the mailorder bonus LP). Endless Boogie are currently on tour in Europe...


Endless Boogie add LA date
posted 3/21/2013
Quick stopover on the way home from Australia, Endless Boogie will play The Echo in Los Angeles on Sunday April 7th. Tickets go on sale this Saturday March 23rd and will cost you only $10. Not bad. Be sure to note it's an early show (doors 5:30).

The band will spend the bulk of April traveling through Europe. Only scheduled New York show at the moment is May 12th at The Bowery Ballroom with Mudhoney. You can get tickets for that solid bill here.

Check out the review of Long Island in the current issue of Rolling Stone.
Family Band / Lace
posted 3/11/2013
Brand new Family Band video directed by Sam Macon who was also behind the Moonbeams video from a few months back. Watch, then pick up Grace & Lies in our webshop or on iTunes.


FAMILY BAND "LACE" (OFFICIAL VIDEO) from samuel j macon on Vimeo.
Endless Boogie World Tour
posted 2/21/2013
Now that Long Island has hit the streets and praise is coming in from nearly every publication, including the paper of record and New York's finest record shop, the band are getting ready to take the show on the road. First up, some overseas aktion. These are going to be hot tickets, so if you live nearby, don't wait til the last minute. Look for some US dates to be added in the spring and summer:

Mar 27 - Good God Small Club - Sydney (AUS) tix
Mar 28 - Brisbane Hotel - Hobart (AUS) tix
Mar 29 - Tote Hotel - Melbourne (AUS) tix
Mar 30 / 31 - Boogie Fest
Apr 3 - Northcote Social Club - Northcote (AUS) tix
Apr 4 - Barwon Club - Geelong (AUS) tix
Apr 7 - The Echo - Los Angeles, CA
16 Apr - Le Vabaun - Brest (FR)
17 Apr - Point FMR - Paris (FR) tix
18 Apr - Viadukt - Zurich (CH) tix
19 Apr - Jungfer - Arnstadt (DE) tix
20 Apr - Roadburn Festival - Tilburg (NL)
21 Apr - Trix - Antwerp (B) tix
22 Apr - Corsica Studios - London (UK)
24 Apr - Loppen - Copenhagen (DK) tix
25 Apr - Truckstop Alaska - Goteborg (SWE)
26 Apr - Crossroad Club - Oslo (NOR) tix
27 Apr - Debaser - Malmo (SWE) tix
29 Apr - Vera - Groningen (NL) tix
30 Apr - TRIPS à moda do Porto - Porto (POR) tix
1 May - ZDB - Lisbon (POR) tix
2 May - The Space Cadet - Madrid (ES) tix
3 May - Ibu Hots - Vitoria-Gasteiz (ES) tix
4 May - Le Bukowski - Donostia (ES) tix
30 May - Nelsonville Festival - Nelsonville, OH tix
1 Jun - The Hideout - Chicago, IL

Purchase Long Island in our webshop or on iTunes.
Long Island getting close
posted 2/8/2013
As of this writing we're just about 10 days away from the 2/19 street date for Long Island. Press is starting to hit the streets and the word is: GREAT. Mojo Magazine (in their 4 star review) said the record is: a roller-coaster of amplified sound... Long Island is alive and involving, creating a world of it's own. Uncut wrote such a fantastic review we couldn't pick out just one quote, so we posted the whole thing below. And finally the team at NPR Music were so excited about the record that they asked to premiere the monster 13 minute opening track 'The Savagist'. Check that out at this link.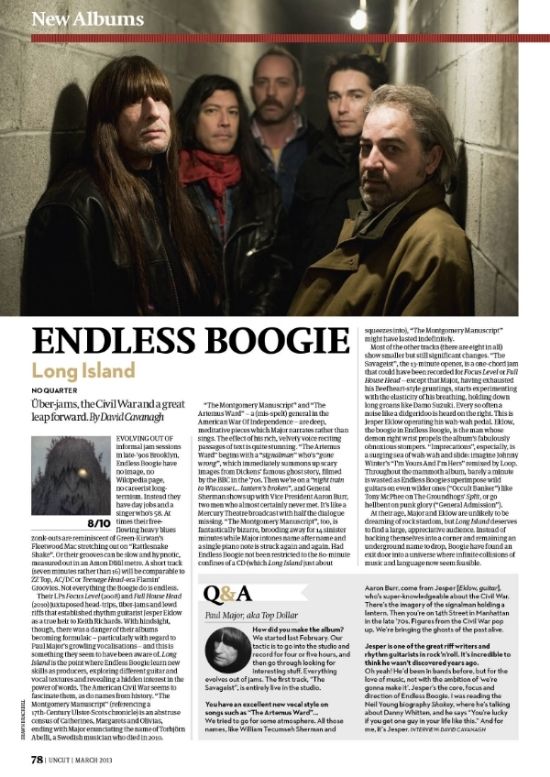 Endless Boogie announce Long Island, pre-order with a bonus LP
posted 1/11/2013
On February 19th Endless Boogie will release their 3rd studio album LONG ISLAND. Recorded this past summer in Brooklyn, it's another massive effort from the group running 8 tracks and clocking in at 79 minutes in length.

Hear the first single: "Taking Out The Trash"


We have the album up for pre-order over in the webshop with a special bundle which consists of:

- Long Island CD or 2xLP, an exclusive bonus 12" and a nice looking 18x24 poster.

The 12" includes a great 13 minute number called "Rollin & Tumblin" recorded during the Long Island sessions and left off only due to time constraint. Side B is a live jam recorded on WFMU. We only made 400, so act fast on those!

If you live in New York then come out to the record release show on February 15th at Cameo Gallery. Arbouretum & Hans Chew fill out that bill. If you're in Europe, Endless Boogie are booked at the Roadburn Festival in Tilburg, NL happening in mid-April. They're planning a few more dates around that so stay tuned...
Doug Paisley / What I Saw
posted 10/15/2012
Live in Toronto, August 2012